Blockchain is the most trending buzzword right now; with the rise in technology, blockchain has now become the hot topic of discussion (and doesn't seem to go out of talk anytime soon!). Blockchain apps and blockchain app development services are now getting renowned, with each day passing by, and the reason for that is quite straightforward! With higher-quality tools, it offers a safe and secure online transaction by integrating complex and encrypted data into a safe mesh that can be helpful for the different businesses and industrial sectors. With its transparency, reduced intermediaries, and high data security, blockchain is now a tech breakthrough global trend with unmatchable possibilities.
Here are some benefits of using blockchain technology with mobile application development service:
Increased security
The secure, convenient, and inviolable system, blockchain, is now interchangeably used with security. With no data exchange guarantee, blockchain is a decentralized system, keeping all your transactions and interactions anonymous. Due to its most advanced encryption, transparency, and integrity, this tech, in particular, has become more alluring.
Better reliability
Besides increasing the security, the robust and reliable structure of blockchain helps to increase the reliability of any mobile application and further protects it from any collapse or crash. Also, because of its distributed nature, it prevents any attempts of unauthorized data alteration, hence, making its approach more reliable for mobile app development.
Simple and efficient
Another benefit blockchain provides is its simplicity! An upper hand over other relative concepts, blockchain's simplicity makes it easier to design and develop according to one's needs, also making it cost-friendly. A perfect assistant for entrepreneurs, this cost-efficient tech offers them feature-rich mobile applications in a much simpler and easier way.
High-level transparency
Any transaction done with blockchain is recorded in such a way that it allows users to access the information whenever they want. Due to its high-security level, the system is protected from any sort of tampering or fraudulent activities. With secure data sharing and transactions, blockchain is a boon to any business or industry vertical.
Easily upgradable
Blockchain technology is growing at breakneck speed; hence, it is essential that any software that uses it has to be updated. By listening to its users, blockchain technology is getting more and more advanced (exciting updates might come in the future!). An open-source of tech, blockchain reduces the mobile app development time and cost (means developers can freely work on it!) while providing the best mobile app solutions.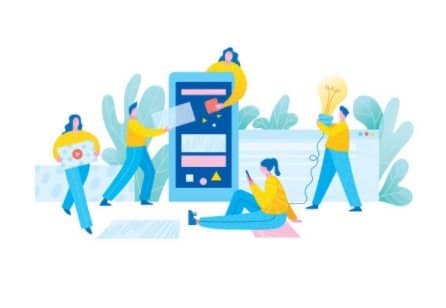 Blockchain technology is growing at a breakneck pace in comparison to its peers. With its higher security and simplicity on a whole, this tech is the future of mobile application. In the coming future, we can even expect more improved mobile application services, with a lot of software updates and increased security levels for better user experience. With its user-friendly design, it is easier to create and design with blockchain (perfect for entrepreneurs!).  Though this tech still has to be explored, the number of perks it provides is commendable.
DataSlexIndia provides the best mobile app development service that fulfills all your needs. With the experienced and qualified team of professional developers, we create custom apps for start-ups, small businesses, and well-established businesses. In the era of stiff competition, our mobile app development services help your business to stand out from the crowd. As the whole process is done with full transparency, you have control over its working. From offering skilled mobile consulting solutions to developing the mobile application, we believe in providing our finest services to you and your users.