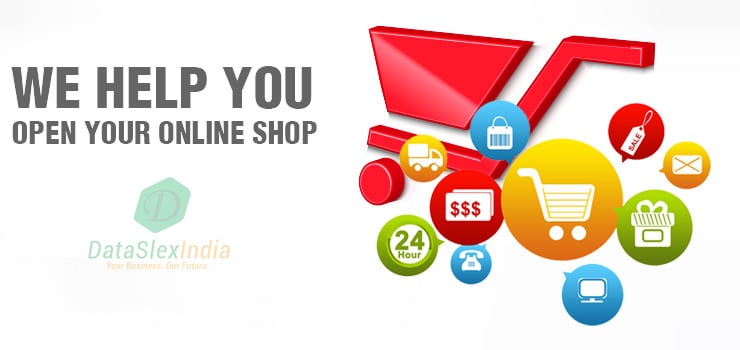 E-commerce these days has taken the world by storm. The act of buying and selling goods and services over an electronic network, primarily the internet is on a steady rise. It is currently the most important aspect of the internet that is yet to blossom fully. DataSlexIndia provides E-Commerce Management services to help clients take advantage of the E-commerce boom and increase their sales.
Do you really need an E-Commerce website?
When most buyers are more comfortable in buying products they can physically touch, why do sellers need an E-Commerce website? If you sell something on a store and are confused about you needing an e-commerce store, the following points might help you to make a decision.
Reach New Markets
While a store must be confined in a single place, its approach can be limited. With an e-commerce website, all the geographical boundaries are erased, leaving no stone unturned to increase the sales from your store. You can reach nearby markets and even international markets for your items.
Elimination of costs
When selling through a store, unnecessary costs are involved. Costs like that of middlemen involved, electricity, furnishing, transportation, etc. eat up a lot from your profits. An e-commerce website enables you to eliminate any intermediate costs and saves the budget that allows you to offer freebies and special deals to your customers.
24×7 Business
Unlike a physical store which shuts down at some point of the day, an online store can enable sellers to encourage purchases even when they are asleep. Your store keeps running, and people can make purchases, go through your catalog and so much more even when you are sleeping. How amazing is that?
Increase Brand Awareness
Statistics show that 81 percentiles of online shoppers conducted online research for a brand before making a purchase. In today's IT world, the absence of a social media handle or a website can be considered a mistake. Having an E-commerce store allows you to dictate your brand image and also increase the awareness at the same time.
How we make good E-Commerce Sites?
You might have come across a lot of E-commerce sites during your time surfing the Internet. There are a few rules which when followed yield amazing websites. Here is the secret sauce DataSlexIndia uses to make E-Commerce sites more attractive.
A great logo that embodies the brand identity
A minimalistic store that is easy to navigate
Unlimited product categories for your product catalog
Easy Interface to Add, Modify, Update and Delete Products
Shopping Cart Management
Inventory Tracking
Quick Search
Integration Easy Payment Options
Ability to create Discounts
Integration Coupon Codes
Bill Management that factors in taxes
Editable SEO tags to improve site ranking
Image, Video and Document support for product listing
Along with all these features, we make sure that our E-Commerce Management Development Services are the best in the market by creating a systemized website. It makes it easier for any user coming to your E-commerce site to make a purchase as well as makes it easier for you to take care of the entire logistics.
There is nothing more annoying than a site that takes a long time to load. Research shows that if a website takes more than 3 seconds to load, 70% of the users move on to another site. We make sure that your web pages don't take longer than that!
Why DataSlexIndia?
Establishing the fact that, e-commerce websites are really profitable, it is also essential to find a reliable company that would make an eye-catchy, buyer and seller-friendly website for your business.
DataSlexIndia is the company that you are looking for. We provide:
E-Commerce Website Design Services
Custom E-Commerce Website Design
WooCommerce Integration
eBay Store Design
Shopify Store creation
Open Source E-commerce Store
And all kinds of E-commerce solutions under one roof. We aren't only user-friendly and reliable but also won't leave a hole in your pocket. What are you waiting for? Get your very own E-Commerce store now!
FREQUENTLY ASKED QUESTIONS